The Academy has a small but beautiful campus at Nainital, which has reasonably good infrastructure. Even with limited infrastructure & space the Academy is fully capable of organizing most of the training activities at par with any other institute of National repute.
The Academy has the following infrastructure :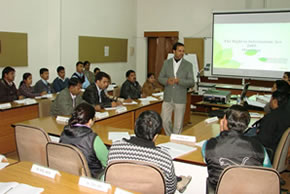 Class Rooms - 07
The academy's ambiance is perfect for the trainees-trainers functions, and the overall environment is matched by best-in-class infrastructure to make learning a truly joyful experience on the campus. The academy provides the best facilities in order to conduct classroom programs for the trainees.
Conference Halls - 02

There are 2 conference halls to organize meetings and study programs. Each is well equipped with state of art technology having there own PA systems, LCD projectors and Television sets.
Seminar Room - 01
Seminar halls provide Space to learn and interact. The academy has 6 class rooms with a capacity to accommodate 60 persons in each. They are well equipped with latest facilities to make each seminar a huge success. Spacious seminar halls provide the right ambiance for big gatherings and also interaction with guest lecturers.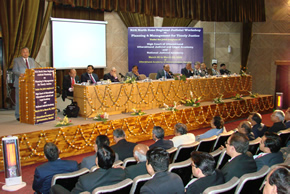 Auditorium (200 Capacity) - 01
It is huge place for some fun learning. In these days a fierce competition, administrators need to be good in various fields like addressing big gatherings, having good communication and influencing skills. The auditorium is situated in the Trishul Bhavan accommodating strength of more than 200 people, provides facilities to the trainees to improve the above mentioned skills. It has a LCD projectors and a sound PA system.